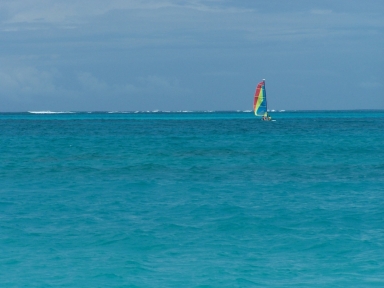 Providenciales, Turks and Caicos
I really enjoy operating from the Caribbean. Propagation is incredible. The pile-ups are amazing. Contests are a BLAST.
I have joined WØGJ since 2008 operating in Providenciales at the QTH of VP5JM. Jody has great antennas (two Force 12 yagis, a 3/3 stack on 10, a rotable dipole on 80 and dipoles on 80, 160) that make running pile-ups amazing.
We operate as VP5H from the contest. We placed second in the world in 2009 and third in 2010. We would like to place higher but the stations further south in the Caribbean always beat us out!
We bring our own equipment and amplifiers to use at Jody's place. The station is typically an Icom transceiver and an Acom amplifier. We have used the Acom 1010 and the 2000a amps. The automatic amp is the best! We borrowed an Icom 7600 in 2010 and 2012- it was a great rig. W0GJ and I both lliked it enough that we each now have one! We have also used an Icom 7000 and an Icom 756 Pro II.
Licensing is easy for VP5. They have reciprocity with the USA. The band plans and power limits are identical to the USA.
IF you work me and need a QSL card, please send a SASE. I get a lot of QSL requests in March after I return home. If you send me a request in the months of July - September, it may not get my attention for several months due to work issues.
I hope to work you from VP5 land. I have posted more pictures in the photo album.